the space in which we have dissolved: in conversation with Alexis Moline


June 1, 2023

From August to November 2021, the space in which we have dissolved was exhibited at Hamilton Artists Inc. The exhibition, curated by Alexis Moline, explored how place affects identity formation in visible and invisible ways through works by emerging Hamilton-born artists Brendan Hendry, Jessy Kitchen, and Eli Nolet.

Hamilton's economy has long been dominated by steel and industry and has suffered in recent decades as sectors have shuffled and shifted. For many, this instability has created a void of safe opportunities for alternative forms of personal expression. Focusing particularly on existing within the margins of a 'steel city,' the artists in the space in which we have dissolved grapple with growing up in a place that has historically marketed its identity as working class, masculine, and cis-heterosexual. Today, this economic and cultural landscape complicates personal identity for its inhabitants that feel little relation to this prevailing public image. Growing up within their hometown's seemingly inflexible identity, these artists experienced a sense of dissociation with their surroundings, leading to a fraught relationship with the stabilizing force of identity itself. In the process, their work became a tangible, visible space where identity can be made one's own. Hendry, Kitchen, and Nolet examine the ways in which visibility can both liberate and discipline identity. the space in which we have dissolved visualizes disidentification and place through the eyes of these Hamilton artists, asking viewers to consider what is made visible at the expense of what is left unseen.

What follows is a conversation between curator Alexis Moline and the artists about their city, their work, and how they exist within it.



Installation view at Hamilton Artists Inc., 2021. Photo by Abedar Kamgari.




Eli Nolet, PUBLIC GESTURE, 2021. Digital prints on pink copy paper. Installation view at Hamilton Artists Inc., 2021. Photo by Abedar Kamgari.


Alexis Moline: Where did your work on the subject of identity and visibility begin for you, and how did it take shape over time?

Eli Nolet: I think I started to engage with identity and visibility in high school when I first began questioning and naming aspects of my own identity. it became almost an obsessive outlet to figure out what scared and confused me so much, so I'd spend hours just reading and researching queerness/identity politics to just spew out weird creations from that.

Brendan Hendry: I'd say mine really began when I moved back to Hamilton after living away for so long and having created a different life and been changed as a person. I realized the place that I had come back to and called home was kind of like nothing where something had been, which made me connect with elements of my past identity and how to heal it. I picked up on and remembered routines and secret habits I'd do and found how easy it was to slip back into those old shoes, which was good and bad. I think over time I saw both sides and wanted to colour in the spaces that felt bleak to me from my teen years with what inspires me now.

Jessy Kitchen: I'm not even sure where it began for me, I know there is an aspect of control - showing parts of myself and hiding other parts. The passing of time is what shaped my practice into being more about identity, slowly it was revealed to me as a main interest. As my work shifted into looking inward to my own identity, I had to also recognize what was out there and surrounding me. Thinking more about the effect place, people and objects had/have on me that shape my identity and therefore my art practice. I never noticed how tied my identity was to Hamilton and steel work. I haven't lived in Hamilton for almost 10 years, it was a place I was running from and actively avoiding. It never felt like home.

Similarly to Eli, these ideas of visibility, invisibility, and identity become an obsession - then there is something kind of funny about that, like a weird self-obsession. Living outside of Hamilton and then coming back to visit pulls nostalgia into the mix, memories are attached to things whether we like them or not. Mixed feelings where I am yearning for the past even though it was painful. I like what you said about secrets, Brendan. When I come back home, certain objects hold my secrets for me.

BH: I think obsessing over your identity is so good for growth if you're in the position to dig deep. I saw a lot around me when it came to heteronormativity that made me question who I was very, very young. But it always felt like the people I'd grown up with appeared to never be in a state of an identity crisis or questioning their place in the world ever. I envied their way of going with the flow, thinking that was what it was. Meanwhile I was having a mental breakdown at like 14 and planning for a life that just wasn't who I was.

EN: I really relate to that aspect of control. There's this dichotomy of identity being a thing to embody, but also identity being a perceived performance, and those two things can really be played around with. With creating things, it's really fascinating to think about how work dealing with identity/visibility can be interpreted and perceived by viewers.




Eli Nolet, PUBLIC GESTURE, 2021. Digital prints on pink copy paper. Installation view at Hamilton Artists Inc., 2021. Photo by Abedar Kamgari.


AM: You all grew up in Hamilton, which has had a distinct impact on your art and art making practice, despite feeling a lack of connection to the city. Where did you find creative expression in a landscape you found bleak?

EN: The first thing that comes to mind is trying to find people and spaces you feel joy with, and then clinging onto them until you can't or they're not there anymore. This has become so painful and odd to do in the context of the pandemic, because it's not like you can go out and dance anymore and feel that queer joy and connection. There's a real loss of physicality. From that, it's choosing to engage with the bleakness directly for me, trying to understand why it's there, how it came to be there, and where the joy can be made and found within it.

JK: I found it in objects, like objects from when I was a kid in the 90s and 2000s – thinking about the aura and how objects become companions that comfort us – how those comforts turn on us and become harmful in a way. I am dancing between transitional objects and magical thinking. My mother has a hoarding tendency, she kept everything – safe to say object obsession was probably passed through the family. Basically, I am all about how the objects we keep inform our identity, hold memory. Thinking about how those objects keep us safe but can also keep us from growing. I believe that place and landscape is completely tied up with that. The fact that Hamilton was the steel city and my father was a steel worker has everything to do with it, even if an onlooker doesn't see or know that through my work.




Brendan Hendry and Jessy Kitchen, The ol' ball and chain, 2021. Disco ball, chain, and cast concrete with the text 'STELCO STEEL MADE BY MY DAD'. Installation view at Hamilton Artists Inc., 2021. Photo by Abedar Kamgari.


BH: I agree with the choosing to engage with the bleakness directly. I know when I made the collages, I was just using random porn images of guys and putting these landmarks and Hamilton ephemera with them. I would almost like to make a story up in my head of who the person in the photo was and their life in the image, and what they were doing on this street in Hamilton, even though they did not exist here. It was a fantasy of what could've or might've been. Hamilton for me is so void of queer history that's documented, so I was kind of making it up.

JK: It's important to engage with the bleakness instead of turning away from it - excavating what it's doing exactly. You don't even need the intention of destroying the bleakness, more so attempting to understand.

AM: That idea of documentation comes up in your work too, Jessy, with the photos of the steel workers by their hand, and then by the official Stelco company photos.

JK: Archives and historical documentation are just another abuse of power – this kind of relates back to what is left invisible at the expense of the visible.




Jessy Kitchen, While bodies become whole calluses, 2019-2021. Steel, concrete, chain, and inkjet prints. Installation view at Hamilton Artists Inc., 2021. Photo by Abedar Kamgari.



Eli Nolet, PUBLIC GESTURE, 2021. Digital prints on pink copy paper. Installation view at Hamilton Artists Inc., 2021. Photo by Abedar Kamgari.


AM: To me, all of your work has a degree of playfulness and humour that speaks to a greater awareness of self and place in the world. How do you feel this element informs your work?

JK: Humour for me is transgressive, and part of the process of figuring it all out. It's transformative and really just a way of dealing with it all. I must laugh or I may never be able to get out of bed. It allows me to share some pretty personal things that I want to share, while creating and maintaining a boundary with the viewer.

EN: It comes back to engaging with bleakness purposefully to find creative joy and expression. Sometimes I need to allow/force/remind myself to be playful in my practice or else I'll just burn out. Making vulnerable and at times really painful work isn't a sustainable practice for me, so by being playful I'm able to have the balance of vulnerability while protecting myself in a way too. I also think that in a lot of my work I'm really looking for the viewers to want to engage with it, and I find that if it's just heaviness all the time it can intimidate some people, or turn them away, especially if they haven't thought about or engaged with queerness or queer work before. By playing with humour, and undercutting the serious with playfulness, I think there is almost a creation of an entry point for people in the work, which I really value.

AM: I was also thinking how, Jessy, you say "transgressive like part of the process of figuring it out" is like what we were saying earlier about the obsession of self-analysis in figuring things out, but with a distinct balance of humour and therefore a lack of self-seriousness. How wonderful and freeing it is to not be self-serious and to not hold so tight to certain identities/ideas, to laugh at the changeability and complexity of everyone and every place. I admire all your work for shining light on this.

BH: I think that's why I love two opposing things which is something stupid and campy against something maybe bleak and sad. I think for this show it was showing comedic failure in archiving/cherishing queer spaces and the lost memories of what queer existence Hamilton had. I find that extremely sad but also kind of funny. Like how the hell did we not document this?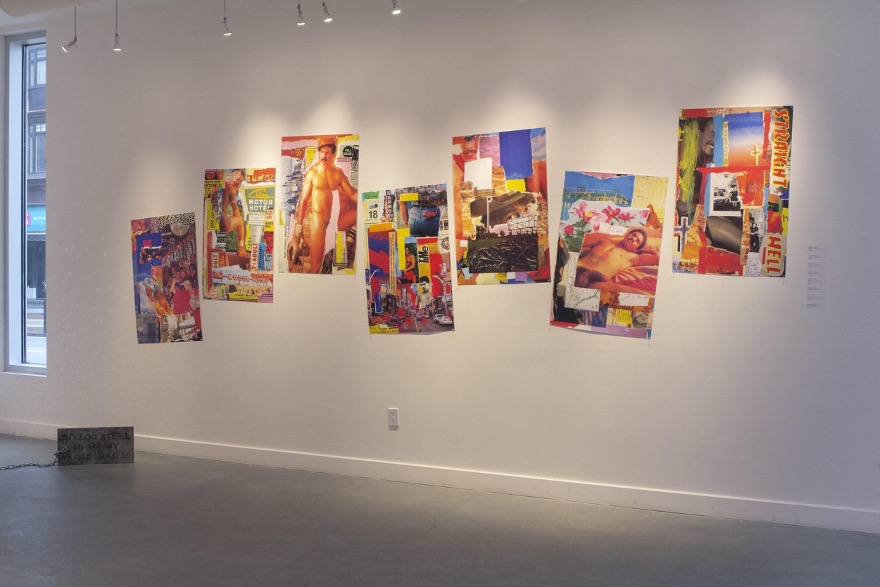 Brenden Hendry, No Man's Land series, 2021. Collage. Installation view at Hamilton Artists Inc., 2021. Photo by Abedar Kamgari.


AM: Brendan, yours are so funny cause they are superimposing giant dicks on Hamilton streets, like a Godzilla gay porn star invasion.

EN: Literally so many quotes from the queer art of failure just bouncing around in my brain!

AM: Failing is so funny. All our best stories to tell our friends are of failure. Success is not entertaining!

BH: In a lot of ways, this is why I love Hamilton. A lot of people love shit talking it and saying it's gross and dirty and I'm like... duh, it's got life to it though compared to some major cities. And it's struggling to come up, it feels like a failure but it's camp.

AM: Every time I walk out my door I feel I witness some sort of old-timey Buster Keaton fiasco acted out in real time

EN: Hamilton is the purest form of camp! Like yeah there's rats here, and it's called the armpit of Ontario... that's homosexuality baby!




Eli Nolet, Alexis Moline, Jessy Kitchen, and Brendan Hendry at the closing reception, Hamilton Artists Inc., November 2021.




---

Alexis Moline is an independent curator, arts professional and educator who has worked in Vancouver, Toronto and Hamilton. She received her Master of Museum Studies in collaboration with Sexual Diversity Studies from the University of Toronto. Most recently, she curated the major exhibition The Bigger Picture: Art in Hamilton 1950-2000 at the Art Gallery of Hamilton in Fall 2022. She has worked extensively within the Hamilton arts community, supporting hundreds of artists through her research and curation.

Brendan Hendry is a born and raised Hamilton based artist/musician. His collage work blends fragmented, hyper coloured, 70's/80's gay porn, together with personal stories and places. Main sources of inspiration throughout his projects range from themes of identity, sex and body politics, self destruction, to nostalgia, and barren landscapes.

Jessy Kitchen is an interdisciplinary artist, primarily working with ceramics. She received her M.F.A. from YorkU. Kitchen's research explores the emotional and material intersections of grief, identity and objects as intertwined with art and working-class labour. Through research-creation she seeks to address the complexity of relationships between identity, objects and loss. Exploring how visible and invisible aspects of identity are constructed and deconstructed through objects and location, and in particular the home.

Eli Nolet (they/them) is a queer interdisciplinary artist from the occupied territories of the Erie, Neutral, Huron-Wendat, Haudenosaunee, and Mississaugas (otherwise known as hamilton, ontario). Slowly studying at McMaster University towards a B.F.A. in Studio Art, their practice is conceptually focused and questions the binaries of visible/invisible, normative/transgressive.