Cold Waters Symposium & Media Arts Festival


Review, August 15, 2019 by Imogen Clendinning


In mid-June I was graciously invited to North Bay, Ontario to attend this year's Media Arts Network Ontario (MANO) conference, the Cold Waters Symposium & Media Arts Festival. I was contacted a month earlier and invited to participate in the Remote Studios program, a kind of free form residency, artist camp. This two day experiment allowed emerging and mid-career makers and artists from the Northern Ontario region and beyond to meet, collaborate and share their ideas. As part of the residency, artists were given access to a monastery turned arts institution— affiliated with Nipissing University. At the end of the two days, attendees of the media conference were invited to an Open Studio event where the participating residents had the opportunity to share our practices and conceptual framing.


Photo courtesy of Vanessa Tignanelli


On the first day of Cold Waters I met thirty artists from North Bay, Thunder Bay, Sault St. Marie, Souix Lookout and a number of other locations. We shared our backgrounds with one another, our conceptual interests, and discussed the nuances of creating safe space (this is no small feet). This conversation embodied part of my more general experience at Cold Waters 2019: the conference encouraged difficult and necessary dialogue to develop between artists and administrators from across Canada, yet these conversations were often limited by allotting only an hour or two for discussion. This kind of tight scheduling created a tension of feeling; somewhere between optimism and frustration. The fact that these complex issues were being addressed frankly was motivating. Just as I would find myself enriched by one discussion or thought, the hour would end and everything was reset. This often hindered deeper discussion of complex issues. Through powerful group dynamics and well formed panels MANO was able to bring to the forefront several sociopolitical issues, but there was less time dedicated to brainstorming nuanced solutions or possibilities. This critique is not strictly relative to the Cold Water Symposium, I often feel that the strict timelines imposed by the structure of conferences can potentially inhibit thorough discussion.

Over the next two days, I would fruitlessly scour the old monastery for technology or supplies. The overachiever that I am, I was compelled to use this as an opportunity to make something new, something that could in some way respond to this experience and place. I filmed a short video, messed around with an old episode of Star Trek on tape and attempted to make something clever with an Anne Rice audiobook on cassette. Needless to say, I wasn't able to marry Anne Rice to Star Trek. My error was in attempting to respond to the Remote Studio as a short-term residency, rather than an opportunity to develop a community of emerging makers through this experience. On the final day, thirty artists gathered over two floors. Some gave short artist talks (notably artists Jeremy Saya and Tyler Levesque), some screened short films (including Cole Forest Stevens, who is currently beginning a project sponsored by ImagiNative). Performance artist Tejhler Leadbeater, video/performance artist Katie Huckson and myself set up in the basement and offered more casual drop-in experiences with our arts practices.

During the Remote Studio program I was fortunate to connect with Taylor Jolin, an Ojibwe artist from Baawaating (Sault St. Marie). Jolin is a multidisciplinary artist whose work often explores themes of non-verbal communication, banality and paranoia. Jolin is currently working with The Indigenous Women's Anti-Violence Taskforce, an Indigenous-led group dedicated to restoring and protecting the honour and value of Indigenous women, 2SLGBTQQIA+ and gender diverse people in Baawaating. I contacted her after Cold Waters had ended. I wanted to speak with another emerging artist about their experience at the Remote Studio, and learn more about their practice.

Jolin had opted to give an artist talk on the final day of the Remote Studio, telling me that as casual as the short residency was, it was the most publicly she had ever spoken about her work. Certainly, this section of the conference allowed artists of different ages, backgrounds and practices to occupy time and space at the Cold Waters Symposium. This led to a feeling of overarching support at the conference; as a young maker I felt that my art was relevant and my labour was respected. Jolin similarly expressed that she was anticipating that the event could help legitimize her practice. The ability to present her work during the conference led to a fruitful peer critique, and the opportunity to network. Jolin says that forming these connections can be so vital to one's art practice, especially for those who live in smaller Northern communities.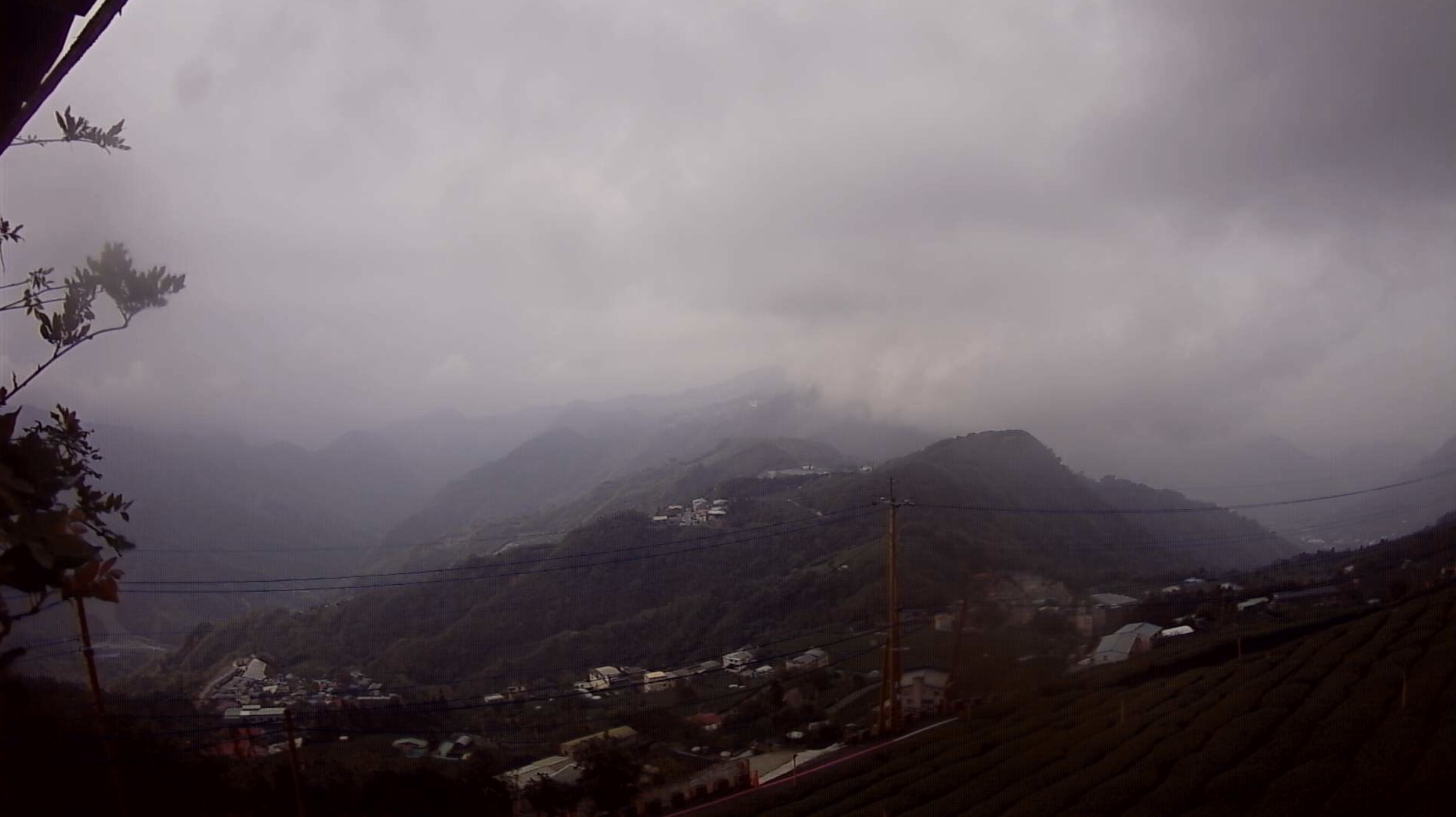 Photo courtesy of Taylor Jolin

One of the more fruitful aspects of the Remote Studio program was the ability to learn about each other's art making. I was particularly interested in Jolin's Remote Viewing series. A collection of still images captured by Jolin of different snapshots taken from online surveillance cameras documenting natural environments; what looked to me like a kind of Big Brother tourism. In speaking about the project Jolin said, "Remote Viewing is so nebulous to me right now, which feels appropriate because that's also how I perceive the nature of the surveillance cameras. New ones pop up and disappear every day, the placement of some seemingly arbitrary, but I can't dedicate enough time to track the behaviour to know for sure." The mysterious nature of these floating cameras is sometimes interrupted by architectural and industrial landmarks like wind turbines, which embody human presence. She states further that, "As an Indigenous person who wasn't raised with traditional land-based teachings I've struggled with my relationship to land and place. I don't feel connected to the 'yours to discover' camping and nationalism narrative, or the land is medicine spirituality." Her investigation of disparate places speaks to a disassociation with more familiar natural landscape. To Jolin, it is possible that she feels more connected to disparate places than to home. These different relationships with place are vital. One of the more nuanced elements of the symposium was the recognition that artists in the North do not relate to the land in the same kinds of ways, nor do we have idyllic relationships with it.

Near the end of the conference I attended a screening of short films, all created by artists and filmmakers from the Northern Ontario region. I was particularly struck by the wit and honesty at play in AL's video-work Oui, je suis une pute. I contacted her after the weekend had ended to speak about her experience at the Remote Studio program— and to learn more about her film. AL is a "queer, fat, Mad, (dis)abled, spooning, francophone, sex worker, porn maker and interdisciplinary artist. She is a student of fine arts, sociology and electronics; committed to pleasure activism, neuro-inclusivity, slut celebration and the expansion of video art" (AL). Similar to myself and Jolin, AL emphasized the prevalence of this being a unique opportunity to formally present her work to a group of peers of young artists and curators. She says, "So much of my energy is focused on creating, producing, exporting and I rarely take the time to hold and care for the work."


Photo courtesy of AL


In Oui, je suis une pute, AL uses her form, dramatic lighting and spoken word (spoken French and English subtitle), to recount her experience as a pornography artist and sex worker. The video was born from AL's response to a particular critique that referenced her work as a pornmaker and sex worker, rather than the art being discussed. I wanted to know more about the different advantages of using digital media to tell stories and share lived experience. AL responded by saying that "digital media for storytelling provides a constellation. I enjoy the effectiveness of telling digital stories with image, audio, text and all of the interconnected narratives - conscious and subconscious - that appear within the mix." The effectiveness of intermedia practice to communicate cerebral function and human experience was used by several artists at the Cold Waters Symposium, including AL.

I also was interested in the presence of translation in the video. Why include the French language with English subtitles in the film? AL explained that the video is in French because it is her first language. The process for this piece began with bilingual video journaling in both French and English. "I decided to share the French parts because I first learned sex-negativism and slut-shaming in that language." AL's video piece was one of the only representations of French language at the symposium, and it used language as a marker of identity. AL's video used individual history as a mechanism for storytelling, effectively intertwined with stylistic effects, dramatic lighting and the performative.

The Remote Studios program allowed me the opportunity to meet these artists, among many others, learn about their processes and ask questions. The richest aspect of this event was the space and time to meet other young folks who continue to make relatable, challenging and critical work, and to meet arts administrators who are dedicated to collaboration. It's electric to take a break from a failing art experiment, to then stumble into an invaluable conversation about funding a media arts project, or to enter a discussion investigating the importance of decolonizing the artist-run centre. Every lunch break was a mind warp.

At Cold Waters the respect for diverse opinions, culture and lived experience was palpable. This recognition and openness was part of what allowed for these innovative conversations to take place. The event exposed arts administrators and artists from urban hubs to the mind-bending work that is being produced outside of these sectors. In more rural places in Canada, it is easy to feel as though you might slip into obscurity, or as though you are tragically disconnected. MANO's Cold Water Symposium seemingly celebrated difference, and sought to build a bridge.

____________

Imogen Clendinning is a media artist and arts administrator who lives in Windsor ON, and hails from North Bay ON. Clendinning identifies as a cisgender femme maker whose found-footage videos deconstruct tropes and signifiers used in cult cinema. Clendinning acts as the Programming Coordinator at Artcite Inc., an artist-run centre focused on bringing contemporary arts to the Windsor-Essex region.


Taylor Jolin
https://www.taylorjolin.ca


AL
https://almond.format.com