LES ENJEUX D'(IN)VISIBILITÉ: MAXIMILIAN SUILLEROT'S L'EFFORT OLYMPIQUE DES SEX MAGICK WARRIORS À LA GALERIE DU NOUVEL ONTARIO


February 23, 2021, by Alexander Rondeau



I'm not sure why I came back to this text, but I think it was in a list to remember what it's like to visit galleries, attend exhibitions, and look at art in its actual material form. Unearthing this text from the Fall of 2019, tucked away in a laptop folder, patiently waiting for a resolution, felt like opening a time capsule. My thoughts, some from then, and some from now, are left suspended in the present tense, if only to feel like perhaps it could be plausible to attend an exhibition, to see art in person, and chat with gallery staff. This tucked-away review from a different world reads as follows:




Immediately upon entering la Galerie du Nouvel Ontario (la GNO), a Francophone artist-run centre in Sudbury, I am welcomed with laughter and warmth akin to my childhood in a Francophone, Northern Ontario community. This gallery is one of just four artist-run centres mandated to present exhibitions across Northern Ontario — a region the size of Texas. Such few artist-run centres means exhibitions and presentations of works by queer, trans, and/or 2 Spirit (QT2S) artists, like Maximillian Suillerot's L'Effort olympique des Sex Magick Warriors, are regrettably few and far between.

Suillerot (they/them), is a queer multimedia artist based in Toronto, Ontario. Born in Mexico City, this Mexican-French artist has long engaged very specifically with the colours pink and teal (as highlighted by their dichromatic Instagram feed) which were pragmatically removed from the original 1978 Pride flag design due to higher costs associated with the dyes of these respective colours. Originally, the teal was meant to signify magic and art, and pink was meant to signify sexuality. For this exhibition, Suillerot thus conceptualized 'sex magick warriors' as individuals dissenting against the heteronorm with bold and unapologetic sexuality to champion their community/ies through performance and ritual. The works are informed by peripheral protests marginal to the Olympics — many groups, QT2S included, find opportunity to protest a myriad of important global or local causes under the international spotlight shown during the Olympics — and tactfully appropriate from the aesthetic fold of Olympic discourse. Much like Suillerot's sustained engagement with the colours teal and pink, the exhibition — produced while the artist was in residence at la GNO — highlights that which is made invisible, is not inherently erased; it lies in plain sight, queer and enchanting.


Maximillian Suillerot, Untitled, 2019, plastic trumpets, dimensions variable (source)


Laid out in the long and skinny rectangular gallery are: an untitled pile of teal and pink plastic trumpets in the northwest corner, and on the east wall, two fingers cast in plaster holding — or rather, fingering — the ribbon collar of a second place silver medal called Reaching for the Glory Within, an untitled teal and pink barbecue lighter on a small shelf, and a doorway with a shredded teal and pink plastic curtain ushering towards the adjacent media room.


Maximillian Suillerot, Fruity Armour, 2019, pink fruit wrapping foam, teal laces, acrylic on cloth, dimensions variable (source)


Along the narrow south wall, three plinths of varying heights are stacked in a traditional podium formation, covered in a crumpled dirty white cloth with pink and teal 1st, 2nd, and 3rd inscriptions. Atop lies Suillerot's piece, Fruity Armour. Made from pink foam wrapper to protect fruit on route to merchants, this material is paradoxically frail and largely unable to protect anything. The cheeky title also points to a similar paradox of queer and flamboyant dispositions that can be used as armour, though not physically protective either.

The lifeless, anthropomorphic figure of Fruity Armour lies depleted across all three podiums foregoing an awarded position. This quasi-corporeal schema lies not in celebration, nor is it in triumph; it is exhausted and freed of the presumed human form that is meant to fill it. Shed, and left behind like a shell of a person. Suillerot's inattention to detail in the presentation of some works — particularly with Fruity Armour — unfortunately render a disservice to the art. The piece itself is meticulous and intricately woven, yet the podium alter cloth is wrinkled and too short to reach the floor.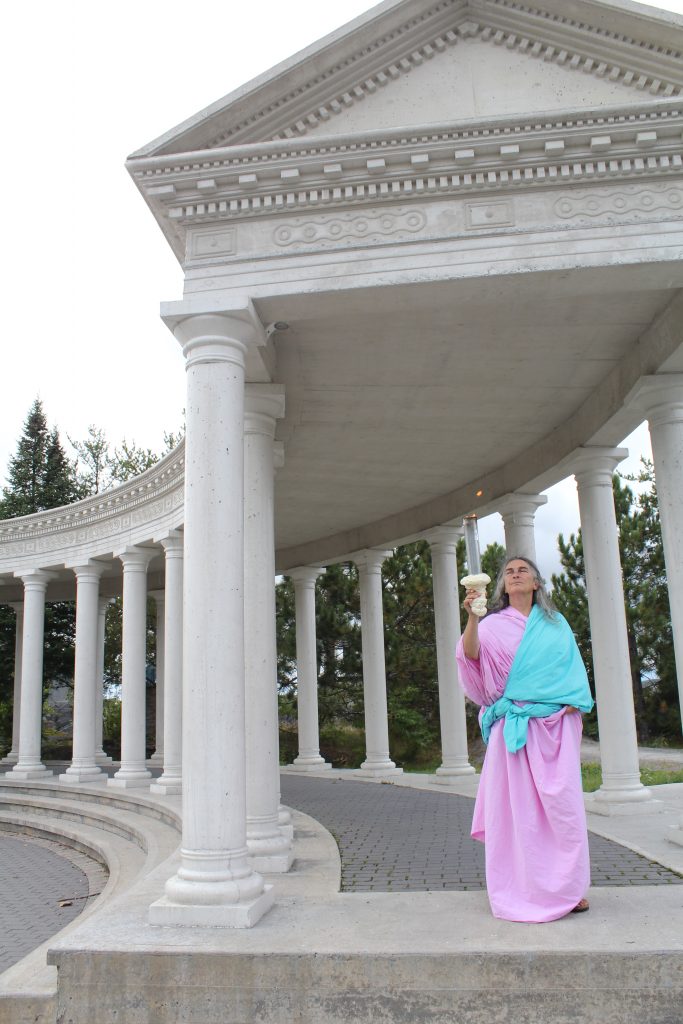 Maximillian Suillerot, still from L'Effort olympique des Sex Magick Warriors, 2019, video, 8:53 (source)

In the media room, the exhibition's namesake piece, L'Effort olympique des Sex Magick Warriors, is projected on loop. Filmed on location in Sudbury, this piece documents performers running dressed in teal and pink reenacting the ceremonial passing of the Olympic torch, punctuated with scenes from a local roller derby club while narration speaks to the importance of intergenerational transference and epistemological safekeepings. The video is full of chromatic aberrations throughout: magenta and cyan (passable as pink and teal) halos which collect around forms in lens based works as the technical result of varying light wavelengths causing the lens to fail in focusing on all colours within a given frame. Although pesky, chromatic aberrations are easily removed in post-production. Presumably, Suillerot chose to keep the chromatic aberrations in the video rather than, just like the Pride flag, pragmatically remove the pink and teal colours. Much like the rest of the exhibition, the inclusion of chromatic aberrations are ostensibly quirky and thoughtful, but point to continued inattention to detail. The performers presented as the 'sex magic warriors' in the video are, surprisingly, staff members at la GNO, and not actually the centrally cited queer persons of the local Sudbury community. In the North, such brief surface level 'parachute model' engagement is all too common; urban organizations, groups, individuals, etc. briefly work with Northern and/or rural communities to fulfil a mandate without leaving a long lasting impact.


Maximillian Suillerot, Untitled, 2019, shredded pink and teal plastic, dimensions variable (source)


Lastly, the artist's postmodern critique of the colours pink and teal falls short in that it is applied to neoliberal consumption; they purchase pink and teal commodities and present them as readymades with inherent queer value. Such consumption and presentation of "queer" commodities is not dissimilar to corporate rainbow washing during Pride months when major large-scale businesses, banks, and outlets plaster rainbows on any and everything to market their products, services, and goods with LGBTQ2S+ sensibilities. The question becomes: are these products, commodities, and readymades inherently queer and dissenting, or is this plainly queer neoliberalism?

For the opening of L'Effort olympique des Sex Magick Warriors, la GNO partnered with the serendipitously concurring Sudbury's Take Back the Night march — a longstanding international protest movement which manifests as a nighttime public march against sexual and domestic violence. The march concluded at la GNO which sits atop Zigs, Northern Ontario's only gay bar (again, in an area the size of Texas). I'm told that Suillerot's video piece was projected at Zigs with acclaim from viewers. A lovely and kind GNO staff member recounts this night as being one that was heartfelt, warm, and special. Of course, I wish I was there. But that is the quintessential Northern Ontario queer invariable: longing, and wishing to be with community.



---

Alexander Rondeau is a queer, Francophone, interdisciplinary curator, writer, and artist from a rural Northeastern so-called "Ontario" farming community called Kerns Township — past, present, and future home to Ojibway, Cree, and Algonquin peoples within Robinson-Huron treaty land. He holds a BFA in Image Arts from Ryerson University (2017), and is currently an Ontario Graduate Scholarship funded MFA candidate in his final semester of the Criticism and Curatorial Practice program at OCAD University. Rondeau's research driven curatorial practice is dedicated to championing and developing exhibitions by queer, trans, and two spirit artists in and from the North. He has curated exhibitions for artist-run centres in Northern Ontario such as the Near North Mobile Media Lab (North Bay, 2020) and the White Water Gallery (North Bay, 2019). Additionally, he has curated several site-specific exhibitions with the support of project grant funding in such places as a construction site, public hiking trails, a beach, downtown streets, and even atop a frozen lake. In 2021, Rondeau launched Between Pheasants Contemporary, an experimental gallery and presentation space in a pheasant coop in rural Northeastern Ontario. BPC looks forward to programming starting spring 2021. Alex is a founding member of Minor Hockey Curatorial (alongside Robin Alex McDonald), and découpé__projects (alongside Marilyn Adlington and Alex Gregory).