Interview with Arjun Lal on their solo exhibition at the Khyber - Fruits of the Forest


February 7, 2022 by Wren Tian


Photo courtesy of Laurence Philomene


I met with Arjun Lal in the fall of 2021 to talk about their most recent solo exhibition, Fruits of the Forest which ran at the Khyber Centre for the Arts from October 1st 2021 to October 30th 2021. We met at their place which was illuminated by red lights, remnants of their time in Berlin in the form of magazines in each room, and playful ceramics pieces in every corner. Going to Lal's is always a treat as they never fail to create such delicious charcuterie boards.

In their exhibition statement, Arjun Lal describes Fruits of the Forest as an "alternative to the stagnant and exclusive traditions present in leather and latex BDSM fetish communities. Deliberately avoiding colonial regalia…" It is a glimpse into new futures and a call to beckon dreams into reality. Through colourful latex masks, jockstraps, large scale photographs, and vibrant gallery walls, Lal takes us on a playful adventure full of new possibilities. Living in a small, yt majority town, you gravitate towards other queer and/or trans Black, Indigenous, People of Colour so Lal and I are quite familiar with one another. We often share space, we've collaborated on different artistic projects, we laugh and share stories with friends over their amazing charcuterie boards. Nevertheless, it's always a pleasure to get to sit down with them and learn more about their work.


Photo courtesy of Khyber Centre for the Arts


Wren Tian: In your exhibition statement you say "subverting power structures and surrendering to fantasy becomes problematic for me when I'm faced with the iconography of my real-life oppressors." It can be really interesting and powerful to subvert but I think being able to imagine something beyond your constraints is quite incredible. Can you speak more to this decision or what motivated you to dream past what we already know and outside of these limitations?

Arjun Lal: A lot of what I do is inspired by my own experiences of navigating through the world and queer spaces. I've been very intrigued by different types of pleasure and exploration so that influenced me to be open and search for new moments. But I couldn't always indulge in pleasure in circumstances where I felt as if I was not holding on to my integrity as a person of colour that lives in a colonized country. I couldn't play the games of being bossed around by a white man dressed as a police officer. As a young, queer person early on in my relationships, I found that they often happened to be with submissive middle-aged white men that I could boss around which allowed me to explore and create spaces where I am in control. I felt good. This body of work has allowed me to have a lot of control over how my brown body is activated.

I find that these leather and latex fetish communities are, I don't know the word but they're like purists in a way, it's all about one thing. Everything is leather, everything is latex, those materials are sacred. It comes with a lot of respect, so it was important for me to think about and stick to these materials but rethink the symbolism. That felt like a step forward. I didn't know where this work was going. I was stepping into an unknown and taking a risk and just putting care into working with these materials and not necessarily knowing where they will end up. My intention was to move away from colonial and oppressive iconography like military and police uniforms, symbols of Christianity, and other symbols that are rooted in European culture and European acts of oppression.


Photo courtesy of Laurence Philomene


WT: Growing up in Nova Scotia, I'm sure you got to go out a lot and explore. Do you feel like you have an intimate relationship with nature or was that the chosen space because it feels almost so opposite [of something like a dungeon]?

AL: My relationship with nature has many different levels, like many relationships. I grew up in Dartmouth, there wasn't much to do, but I had heard about these spaces outside where people would get together in the woods and they would become spaces for queer gay intimacy. I think one level one of my interactions with forests is as a young adult in a car, parked on the edge of a forest, and then seeing this older demographic of white men walking in and out, and I found myself often hiding, like crouching down. And I would sometimes think to myself "What am I doing here? Do I belong here?" I was happy for all of them though and I did have rare moments where there would be someone there that I felt I could have a good time with. Since then, one of my favourite things is going into the woods in the summertime. I'll go out into nature on my own and just to have quiet time, and sometimes it would feel sexy, and sometimes I would take photos and videos. That's another layer. And then I've been thinking of typical fetish specific spaces, with all of the gear, all of the slings, and bathtubs filled with urine and glory holes. I've been in environments that are designed for kink. I think it's a fascinating space and I do think that is a space I want to enter with my creative work in some capacity. There's this bathhouse in Paris, Sun City, that has decor that is all inspired by Indian architecture. There's this gay photographer [Sunil Gupta] that's now based in London who did a photoshoot there. So I know this is possible, I know that people can have relationships with this space for an artistic project.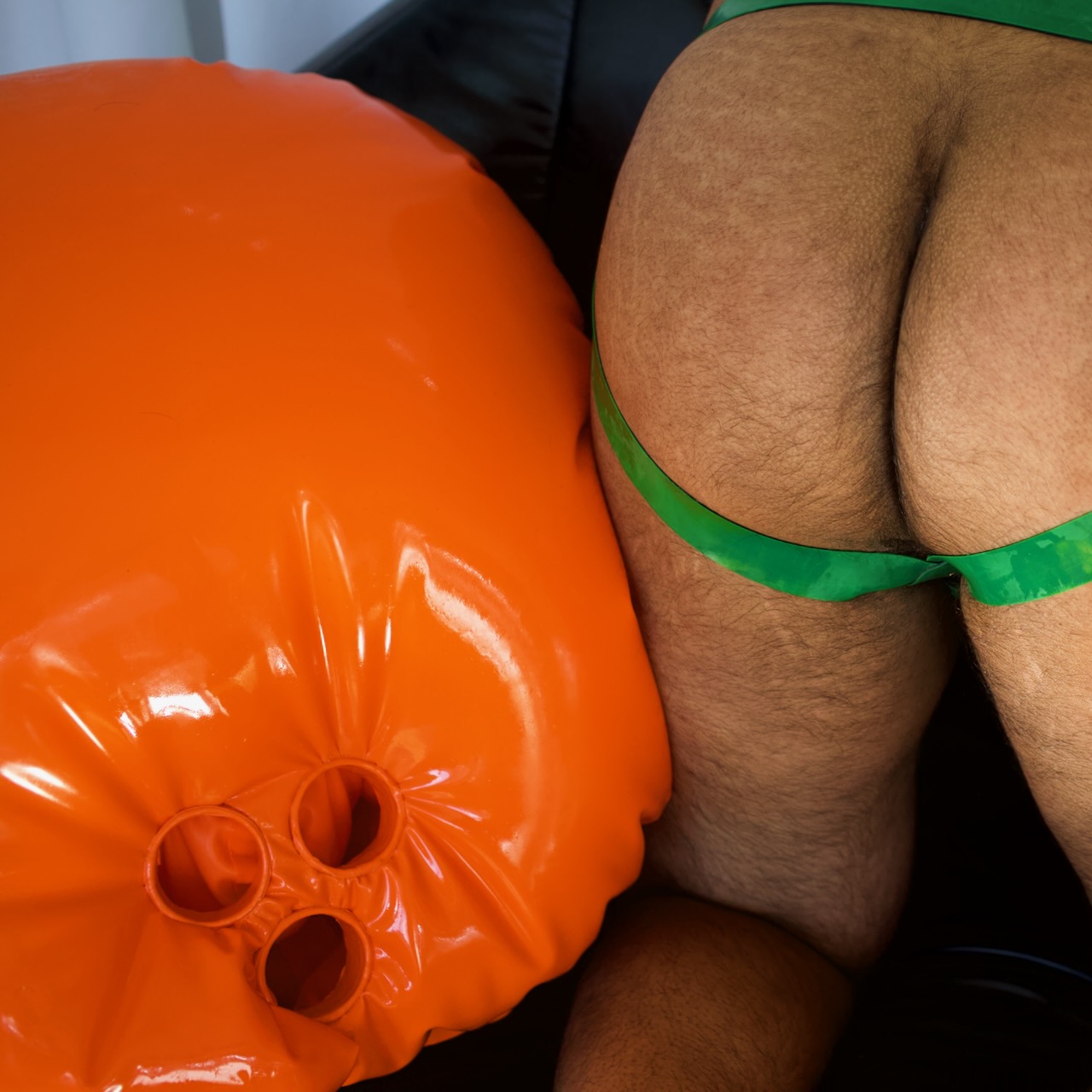 Photo courtesy of Laurence Philomene


WT: In your last solo show, Queer Works, you had condoms and tiles that had a lot of Indian iconographies. Although we can never truly separate ourselves from our identity and how that plays into things, were there parts of Fruits of the Forest where you were thinking of Indian culture? Did that infuse itself in any way?

AL: Yeah, for sure. Those condoms and tiles I did were from when I really started thinking about who I am and letting that reflect into my work. Up until then, my work wasn't personal. Once I started thinking about who I am and celebrating who I am, I needed to make references to my culture. I grew up in Dartmouth and had only been to India a couple of times and I do feel quite disconnected from that country and culture because it wasn't a big part of my life. Growing up on Turtle Island I struggled to find a sense of belonging and was concerned with thinking about how to relate. It was when I was starting to think more critically about identity that I started to realize that as a first-generation person here I just started to feel like my identity is unique to me. There's not a whole lot of first-generation Indian diaspora here, at least not much before contemporary waves. So we're all here now but we don't have many footprints to follow for guidance. I feel like I'm painting paths with my identity. Ever since I've thought about it in that way I am more interested in learning about my place on this land and how that is shaping my identity. Because of that, when considering Fruits of the Forest I know I didn't directly think about making connections to Indian culture, but I know that they are there. I know that my displaced body is there. I know that this work is shaping my identity and hopefully leaving a mark for it to flourish for future generations. For them to have something to relate to – some kind of cultural and tangible archived moment.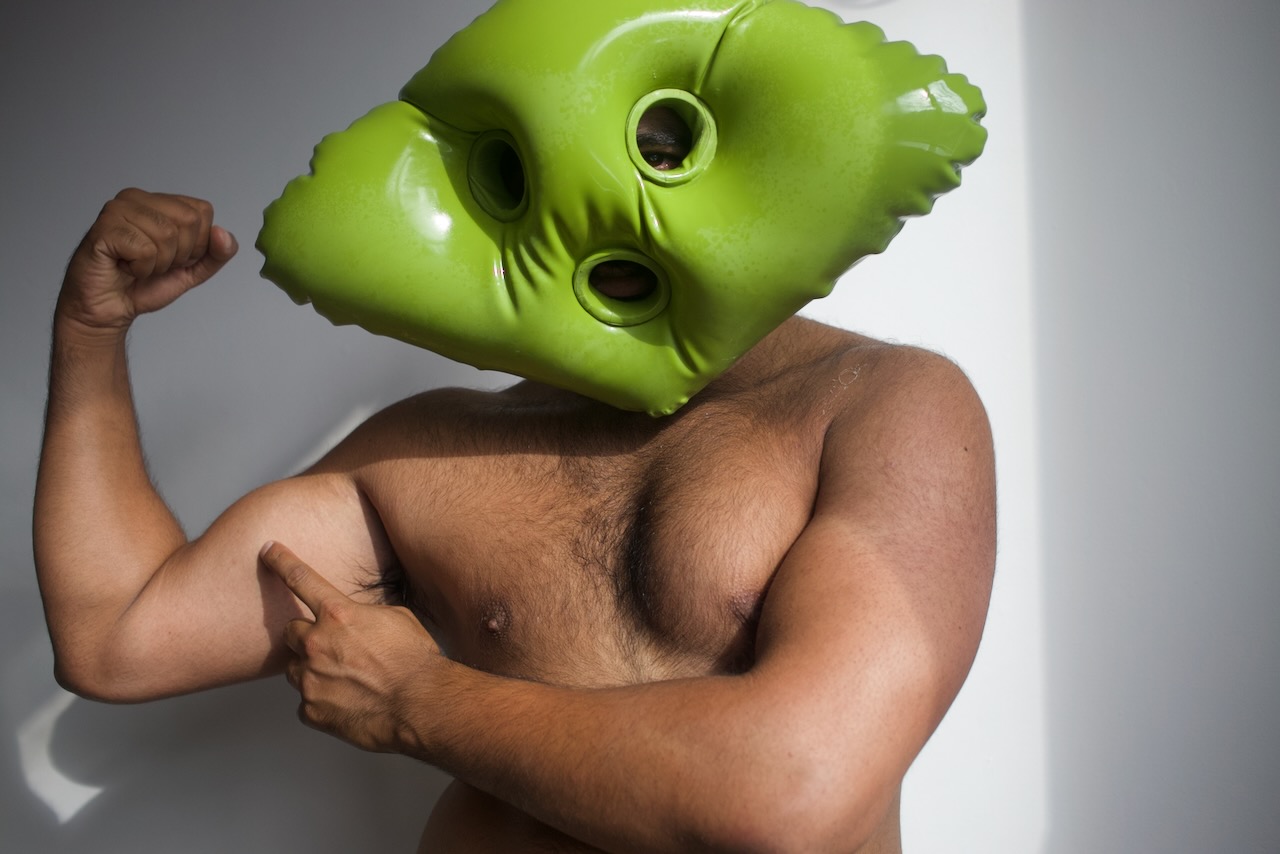 Photo courtesy of Laurence Philomene


WT: What has informed your practice?

AL: Art for so long has been dominated by white stories, white experiences, white problems, white concerns, white values. When I started going to art school, and when I was early in my art practice, I was playing that game of continuing this colonial legacy of what an art practice is. Then once I started separating myself from that, it launched. There was this point where I thought, I can make work about myself. There's a need for work that is providing alternatives to what we've been taught in our colonial educations. I've been driven by realizing that I have a voice, that my opinions are worth something, and by my desire to see a new future that's different from this one.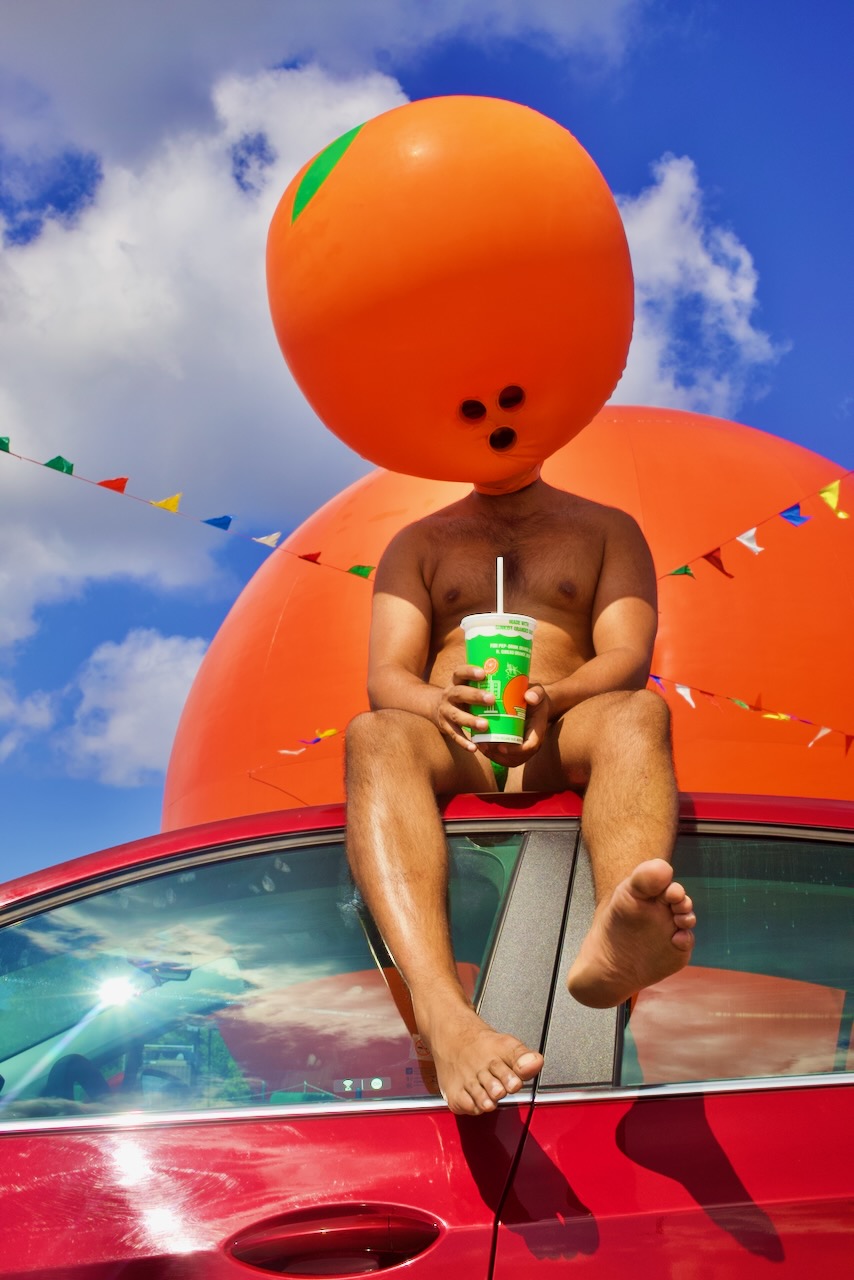 Photo courtesy of Laurence Philomene


WT: How has learning to work with leather and latex changed your relationship to these materials? Or has it altered that relationship at all? You went to Montreal to apprentice under a leather and latex worker.

AL: Yeah, I think now having worked with these materials for a while I feel like when I look at something I'm looking at the details, the material, the quality of the leather, how it's put together, and how it's structured. Having more experience with these materials, I feel like a maker. During that mentorship, I crafted an array of floggers that I now keep in my bedroom. Not often but now and then I'll find myself in a very intimate situation where I'll end up using these tools. I never used to have these objects because often they're quite expensive and with an emerging artists salary, it's hard to spend money, there's so little. I started using these materials just because I wanted to make art but now I'm finding that these materials are finding a place in my own acts of pleasure.


Photo courstesy of Khyber Centre for the Arts
---

Arjun Lal (he/they) is an interdisciplinary artist based in Kijipuktuk. His creative work has been focused on contemporary queer themes of identity, colonialism, fetish culture, and cultural fetishization. They are inspired by their lived experiences as a queer Indian diasporic person who has lived in cities on Turtle Island and in Berlin.

Lal received a Bachelor of Fine Arts - Interdisciplinary from NSCAD University and has had their work supported by Arts Nova Scotia and Canada Council for the Arts. They work across mediums including photography, ceramics, textiles, silicone, video, and performance.


Wren Tian 天琳琳 (they/them) is a trans visual artist of Chinese descent —graduated from NSCAD University in 2020 with a Bachelor of Fine Arts in Expanded Media. Their interdisciplinary practice often revolves around their identity and community—exploring themes of queerness, pleasure, and transracial adoption with special care for lens-based work. They hold collaborative work close to their heart as they are drawn to the playful and healing nature that working with others can bring about. They have a key role in the current iteration of The NSCAD Queer Collective—having collectively participated in Nocturne 2020 with the NS LGBT Archives— and are the Interim Artistic Director of Eyelevel Artist-Run Centre. They are currently trying to imagine the future of their practice in relation to the world around them.

Instagram - @wren_indoubt