Above the Belt, Below the Bush in North Bay, ON
September 7-27, 2019

Exhibition Texts, October 29, 2019

Above the Belt, Below the Bush, curated by Minor Hockey Curatorial took place in a partially developed space in North Bay, ON. The exhibition featured work by Adrienne Crossman, Dayna Danger, Tyler Matheson, Dominic PInney, Walter Scott, Jordyn Stewart, and Mary Tremonte and ran from Sept. 7-27, 2019.


Photo courtesy of Alexander Rondeau


The following writing includes three seperate texts that were originally featured in the printed catalogue accompanying the exhibition.


I. About the Exhibition
Robin Alex McDonald, Exhibition Co-Curator

Co-curated by Minor Hockey Curatorial (Robin Alex McDonald and Alexander Rondeau), Above the Belt, Below the Bush revels in the extra/ordinary fusion of queer glamour with the rural aesthetics of Northern Ontario.[1] Collapsing the division between hyper-masculine cultures of hunting and sport and queer/femme textures and materials (including leather, glitter, fluorescents, and sheen), the exhibition meditates on queer negotiations of geographic-specific visual and cultural codes. Some of the artworks in Above the Belt, Below the Bush playfully engage with fantasies of northernness, rurality, and Canadian cultural identity in order to call these homogenizing stereotypes into question; others shed light on actual issues faced by northern communities. Dominic Pinney's Untitled (for Vaughan), for example, draws a connection to the heightened rate of motor vehicle accidents in the north, while Adrienne Crossman's No Future -- the title of a prominent queer theory book [2] -- takes on new meaning in light of the damaging dominant attitude that youth must leave northern communities if they are to succeed in their academics and careers.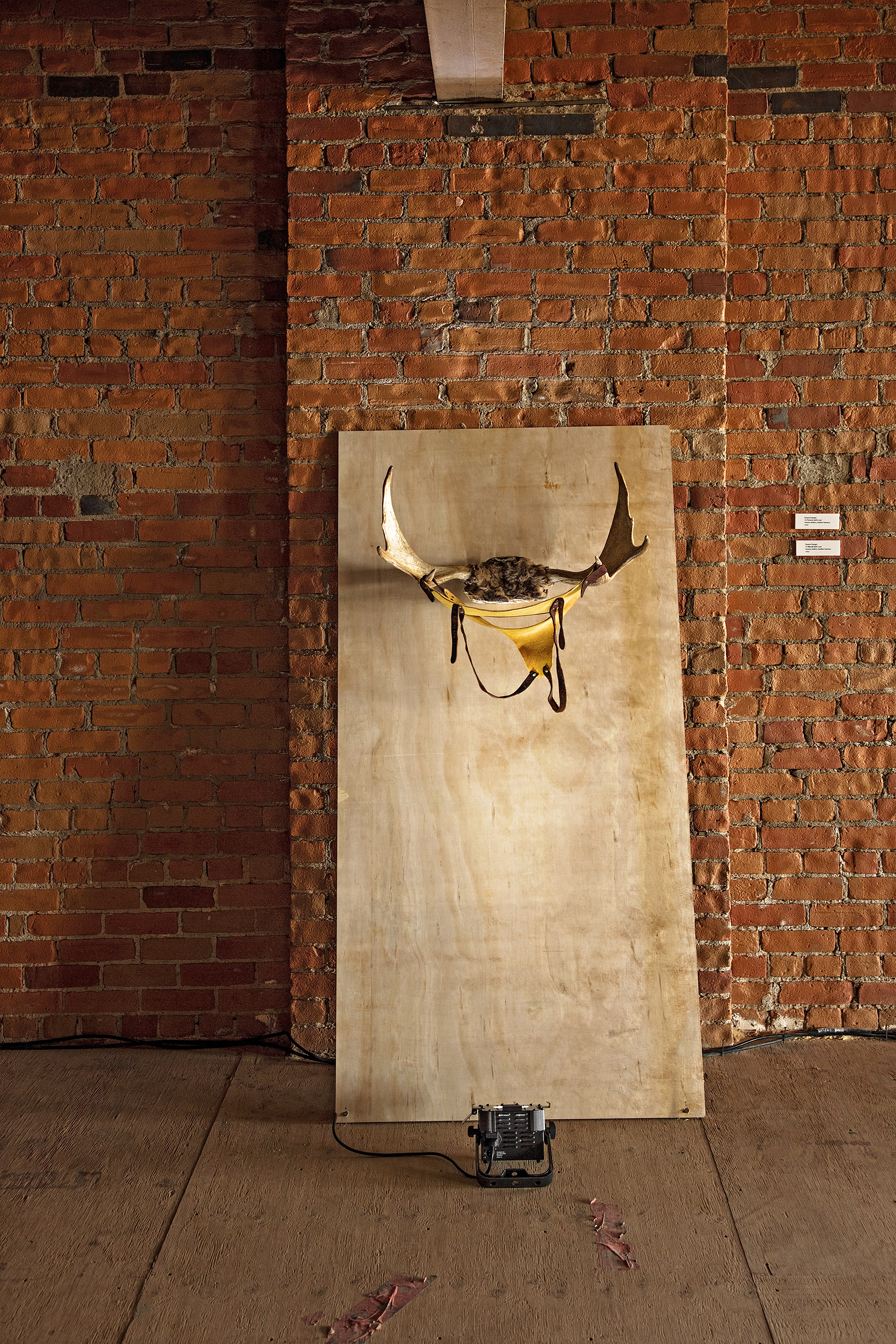 Dayna Danger. Photo courtesy of Alexander Rondeau


Housed in the former site of Lefebvre's Source for Adventure (an outdoor equipment store whose collection of fishing, camping, and hunting gear was destroyed by fire in 2012), Above the Belt, Below the Bush opts not for the sterile atmosphere of the white cube gallery but for the grunge and covertness of a building mid-renovation. Similarly, not all of the pieces in Above the Belt, Below the Bush can be immediately read as queer works (or even as works about queerness), and not all of the exhibiting artists self-identify as part of the LGBTQ2S+ community. Instead, the queerness of the works included in this exhibition is largely produced within our readings of them, as curators and queer subjects, as well as from their material and aesthetic connections to queer histories of camp and glamour.

While queer camp is typically understood as loud and outrageous (as in the raunchy films of John Waters or the feather-boas of Elton John), queerness itself often demands an oscillation between hyper-visibility and invisibility (as in underground gay nightclubs or brightly coloured hankies hidden in plain sight.) Queer theorist José Esteban Muñoz suggests that "[q]ueerness is often transmitted covertly. This has everything to do with the fact that leaving too much of a trace has often meant that the queer subject has left herself open for attack."[3] This may be especially true in the north, where the perception of higher rates of homophobic and transphobic attitudes often activates queer invisibility in the same way that wild animals activate camouflage. Here, the knowledge and conscious manipulation of how one appears or "codes" vis-a-vis other gendered, classed, and racialized codings becomes a crucial survival tactic for marginalized people. The use of actual camouflage prints in works by both Jordyn Stewart and Walter Kaheró:ton Scott gestures toward this critical element of queer covertness while still holding onto cheekiness and parody (whether in the form of a meandering desirous hand, or a pink-camo scrunchie).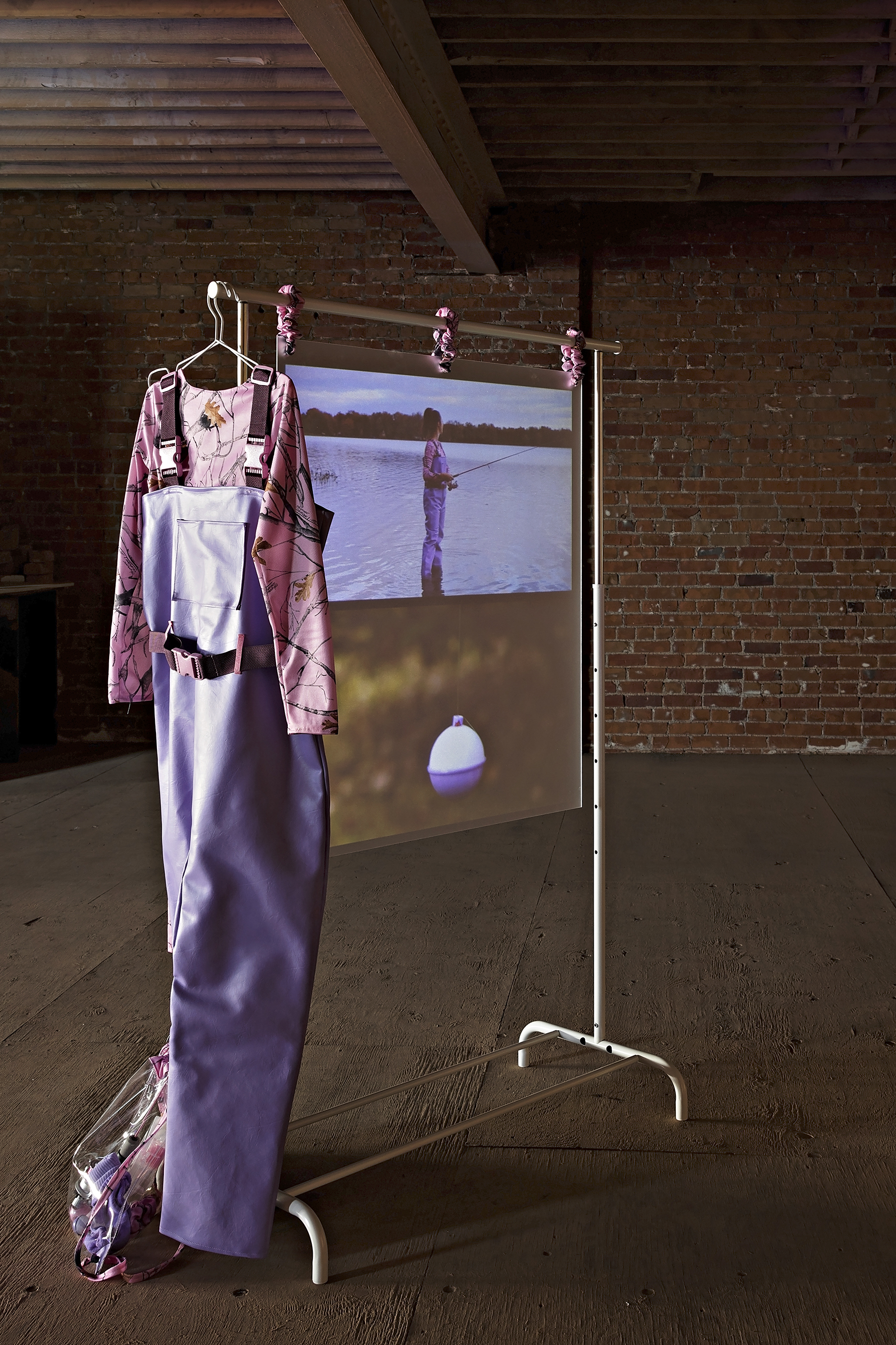 Jordyn Stewart. Photo courtesy of Alexander Rondeau

As Estraven Lupino-Smith writes in their meditation on queer urban ecologies, camouflage is a tactic shared by queers and "wild animals" alike.[4] Noting that queers often use the same concealed wooded areas for cruising grounds that coyotes, foxes, and falcons choose as sites to hunt, play, and rear their young, Lupino-Smith suggests that these multi-use areas of "wilderness" "remind us that there are things beyond our control" and "other ways of being in the world."[5] Such observations also contest the dominant assumption that urban environments are the only places where queer people can thrive, asserting instead that meaningful queer subcultures persist even where they are imagined to be nonexistent or under threat.

This myth of absence – which suggests that queer subjects do not exist in northern or rural communities – has its historical roots in settler colonialism and Canadian nationalism. Since settlement, the misrepresentation of Canadian wilderness as empty, uninhabited lands provided grounds for settlers to violently colonize Indigenous territory and displace Indigenous peoples. In short, the lands now referred to by the colonial name "Canada" were deemed a kind of utopia; a source of endless possibility, ready to be claimed, extracted, and developed. The taming of the exoticized and "unruly" wilderness was achieved primarily through the division of land plots, establishment of public parks, and creation of the forest, mining, and fishing industries, but the imposition of the (cis)gender binary (with itsassociated division of labour), compulsory monogamy, and compulsory heterosexuality also played a significant part.

Certainly, non-Indigenous queers had (and continue to have) an active role in processes of colonization and the naturalization of settlement as well. As Scott Morgensen claims in his book, The Spaces Between Us: Queer Settler Colonialism and Indigenous Decolonization, non-Indigenous queers have a long history of "resolv[ing] their exile through land-based relationships to disappeared Native people."[6] Keeping this in mind, we hope that this exhibition's curatorial claim – that queers do, and always have, lived in rural areas, northern areas, and all other areas that they/we are believed to be absent from – does not risk suggesting that non-Indigenous queers have any greater legitimacy to these lands than our fellow non-queer settlers. Rather, we hope that the aesthetic fusions explored throughout this exhibition can serve as a reminder that many of the acts, relations, and gestures now understood as "queer" have always existed in this place. Although they have been rendered invisible through settler colonial constructions of "heterosexuality," they have not been erased. They persist, camouflaged and coded.


[1] Within this exhibition, the coexistence of queer aesthetics and the popular aesthetics of northern rurality is considered to be "extra/ordinary" in that it is both extraordinary (remarkable and striking) and extra ordinary (ubiquitous and quotidian).

[2] See Lee Edelman, No Future: Queer Theory and the Death Drive (Durham: Duke University Press, 2004).

[3] José Esteban Muñoz, "Ephemera as Evidence: Introductory Notes to Queer Acts," Women and Performance: A Journal of Feminist Theorist 8, No. 2 (1996): 6.

[4] Estraven Lupino-Smith, "Morality Cuts: Uncovering Queer Urban Ecologies," Guts Magazine 9 (2018), http://gutsmagazine.ca/morality-cuts/

[5] Ibid.

[6] Scott Morgensen, Spaces Between Us: Queer Settler Colonialism and Indigenous Decolonization (Minneapolis: University of Minnesota Press 2011), 6.

--
Robin Alex McDonald is an arts writer, academic, and independent curator currently living and working on Robertson-Huron Treaty territory and the traditional territories of Nipissing First Nation. Their published work can be found in several magazines and journals, including n.paradoxa, nomorepotlucks, Queer Studies in Media and Popular Culture, and Literature and Medicine.


II. Curatorial Statement
Alexander Rondeau, Exhibition Co-Curator

Having grown up in rural small-town Northeastern Ontario, the aesthetic considerations of the artists within Above the Belt, Below the Bush resonate with me in a way that is entirely familiar, eerie, and hopeful. Although the conceptual framework of this exhibition is in many ways deeply rooted in aesthetics, there is also a local buy-in for most Northerners in so far as these aesthetics are largely derived from recreational cultures, including fishing, hunting, and hockey. These cultures and their aesthetics are ubiquitous in Northern locales, but they are also almost entirely exclusionary of queerness; as I have found, these cultures are often paradoxically indoctrinating as they are inherited - or imposed - as a generational transference.

I am acutely aware that curatorial practices in Northern Ontario - especially in smaller, rural locales - are few and far between. Growing up in the North, I was never exposed to critical artworks and did not know that curators even existed until moving to Toronto. After moving back to the North, I realized that my curatorial practice was formed alongside metronormative sensitivities and that exhibition making should be informed by regionalisms that are often too easily overlooked or discredited by urban communities.

Having curated exhibitions in small rural Northern towns, I have learned that there is absolutely room - and need - for contemporary exhibitions, particularly those with works by marginalized and underrepresented artists. It is my hope that Above the Belt, Below the Bush can accomplish a queering of the familiar by prompting an important reconsideration of cultural codes and visual norms that permeate hegemonic social and cultural understandings of identity in small Northern communities. Admittedly, North Bay certainly does not feel small (compared to the community in which I grew up, which had more cows than people), but it also doesn't feel large enough to escape the omnipresent trend of camo and sporting wear as popular fashion.



Tyler Matheson. Photo courtesy of Alexander Rondeau


While looking over potential works to include in the show with Robin, I was particularly struck by Tyler Matheson's Hockey Sticks Affixed With Glitter as it is somehow aesthetically both over- and under-stated. But mainly, this work resonated so deeply with me as someone who grew up playing hockey and ultimately quit due to my extreme discomfort as a queer person within hyper masculine hockey culture. Although the works in the exhibition are critical of the aesthetic and cultural folds to which they are responding, I would argue that they also make space for QT2S folks to reconsider themselves in relation to the cultures in question, as I myself had to reconsider my relationship to these fabulous hockey sticks.

--

Alexander Rondeau is a queer, Francophone interdisciplinary artist, curator, and writer from New Liskeard, Ontario. He holds a BFA in Image Arts from Ryerson University and is currently an OGS-funded MFA candidate in the Criticism and Curatorial Program at OCAD University. Rondeau's research-driven artistic practice is largely lens-based hybridizing photography, sculpture, and performative site-specific interventions highlighting the complicated intersections of queerness and Northern rurality. He has done several residencies including MAD in Sigulda, Latvia and has had several group and solo shows across Ontario including a Featured solo exhibition during the 2017 CONTACT Photography Festival. From 2018-2019, Rondeau was the Program Coordinator at the Near North Mobile Media Lab in North Bay, Ontario.




Walter Scott. Photo courtesy of Alexander Rondeau


III. [untitled]
GHY Cheung

It started as a joke. I had bought an iridescent party ornament, one of those things you unfold into a quasi-sphere, clear partitions fanning into honeycombs around a central axel. I saw it in a café and thought of you. How it would unsettle the otherwise no-frills logic of your apartment. Out of place and absurd by way of contrast, sparkly and most certainly gay. Carrying it nascent and tucked neat into my backpack I made my way to yours.

I had sweat through my usual black on black uniform by the time I rounded the corner, as much from the heat as from the idea, now irretractable, that I had somehow miscalculated. The imagined charm of my gesture gave way. What if you hate it but feel pressured by polite convention to pretend otherwise? Your building in view at the end of the street. What if a gag gift is a weird thing to give you when I've only met you twice before? Steps away. What if this gives you the impression that I think all queers are magpies, oriented by our genetic makeup towards shiny things?

A 2014 study by scientists at the University of Exeter concluded that magpies are not instinctively attracted to shiny objects. Their reputation then was likely the result of anecdote—Gioachino Rossini's 1815 opera, European folklore and children's stories—with an admixture of observer bias. It would be easy to flip my metaphor here into a disavowal of any inherent queer claims to flamboyance or fabulousness (and strictly speaking this would not be inaccurate, though I imagine it would read, with certain inflections, like an assimilationist assertion of queer ordinariness). My instinct instead is to press the myth. To see what happens if we take seriously an insistence on textures and materials that glitter, sheen, fluoresce—that are, more broadly, iridescent—as relevant codes of queerness. To renegotiate how these qualities are thought of in relation to queerness. To say in a tone that suggests at once a statement and a question, there's something queer about iridescence.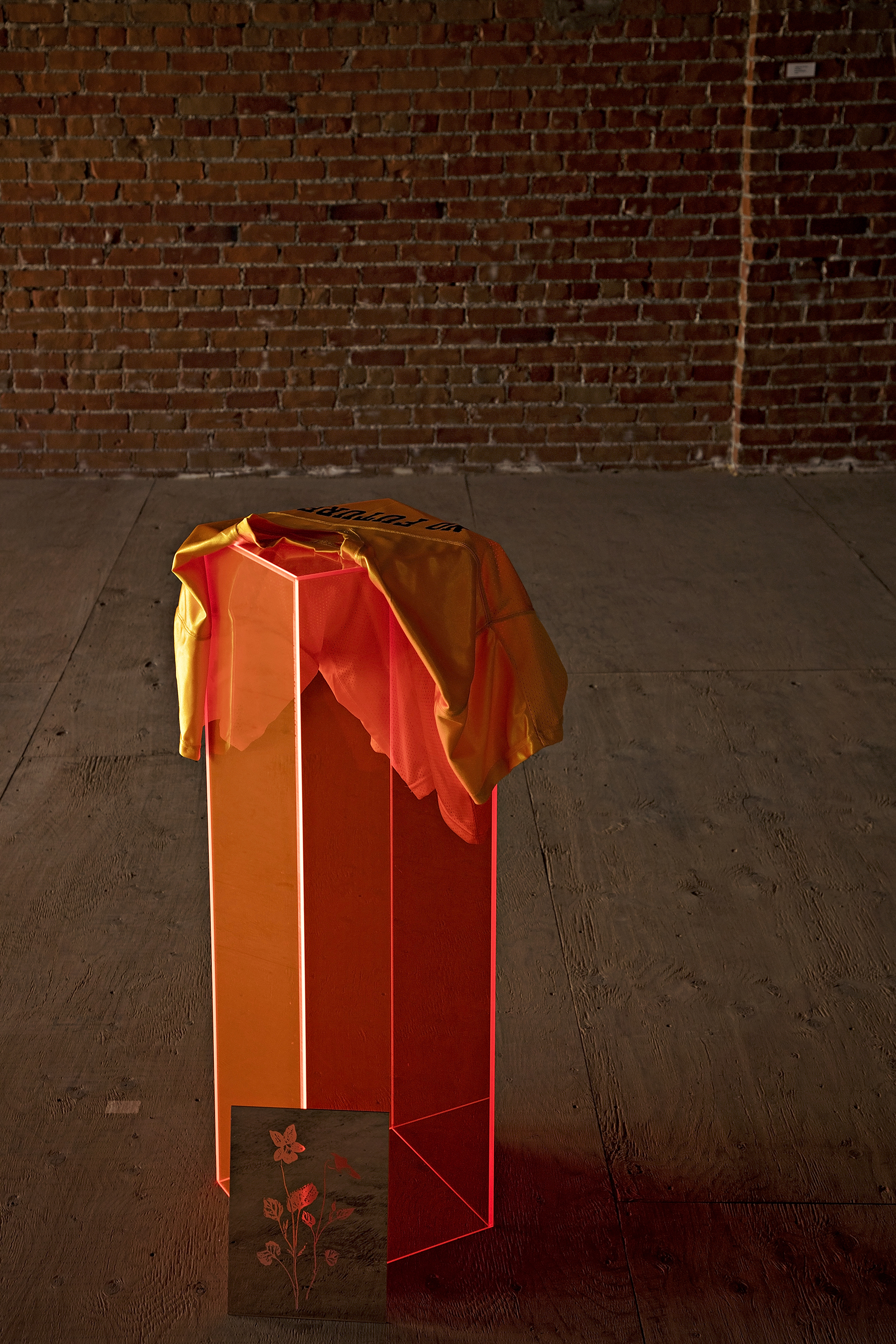 Adrienne Crossman. Photo courtesy of Alexander Rondeau


Iridescence. Noun.

1. The collective glint off every mirrored facet of a disco ball, itself the globe of an alternate, more glamorous planet

Iridescence has an ornamental feeling, twice over. It emanates from objects and coats nearby surfaces. Animated by the aesthetic theories of Ernst Bloch, José Esteban Munoz locates in the ornamental a kind of potentiality. In theorizing that both queerness and utopianism are about dreaming the then and there, Munoz aligns the queer desire "to render the world as ornamented" with the utopian desire to image another world beyond the limits of the current one, to reach for new ways of being, forms and quantities of pleasure impermissible in the here and now. [1]

2. The blur of hues that constitutes the world as seen through the teary, anticipatory eyes of a daydreamer

Ornament, like daydreaming, enacts partial fantasies. Iridescence as relics of queer utopian dream-worlds.

3. The feeling of your bedroom once we've suspended the ornament under a light, walls liquified into the dreamscape of a Wong Kar-Wai sequence

Sometimes the decorative flies in the face of utility, gets in the way of its substrate-object working. And what if this is a failure that is a refusal that, in Jack Halberstam's words, "allows us to escape the punishing norms that discipline behavior" and reorients us most forcefully towards another time, another place, another life? [2]

4. The play of colours caused by differential refraction of light waves that tends to shift as the angle of view changes

In its flash, iridescence has a particular relationship to visibility. As an expression of difference, it has been used in spectacular, often creative, and always confrontational ways in the world of queer nightlife, drag, performance art, a way for overlooked queers to demand attention. The performed fabulousness of iridescence continues to carve out space in a world that doesn't comfortably reproduce the contours of queer lives.

From royal flycatchers to tiger beetles, shimmer is mobilized by iridescent animals to a different end as a matter of survival. Flickers and changes of colour variously facilitate camouflage, startle and distract predators, and cause confusion about a prey's position and location. Iridescence then not only attracts the gaze but tricks and directs it, diverting just as it draws attention, its effect both visibility and a kind of opacity.


Dominic Pinney. Photo courtesy of Alexander Rondeau

All photos courtesy of Alexander Rondeau

5. A lustrous quality or effect

By turns tacky and mesmerizing, iridescence also invokes visual pleasure. But what to make of an association between queerness and visual pleasure when it can look so much like escape, sedation, complacency? If being queer is to uphold queerness's historical commitment to the broad critique of processes that produce, recognize, and normalize identities, pleasure becomes a corrective necessary alongside the serious work of being queer. It is defiant of burnout. Here then the possibility of pleasure as respite rather than desertion, iridescence as care extended to weary queers.

It started as a joke, but iridescence has taken on real resonance for me within our friendship. This is a queer relationship in many regards, but significantly I think because it tends towards a way of life imbued with the possibility of reaching a relational system through sexual practices. [3] We've kept in touch even though I've left the city where you continue to live, largely on the strength of the vernacular we've developed, the quirks and codes, including ones that have cohered around this ridiculous ornament I gave you. It's a coincidence that this object that would take on such significance, that continues to index our friendship, happens to be iridescent. Thinking again, it's also as if the ornament both presaged and precipitated our future social relations. There were perhaps imperceptible (queer) qualities and certainly a weight of queer history that drew me to the ornament, that drove me to bring it to you. Iridescence took on, for me, new queer resonances not by chance or through some alchemy, but because of a kind of insistence, because I was already leaning into the myth that there's something queer about iridescence.


[1] José Esteban Muñoz, Cruising Utopia: The Then and There of Queer Futurity (New York: New York University Press, 2009), 143.

[2] Judith Halberstam, The Queer Art of Failure (Durham: Duke University Press, 2011), 3.

[3] Michel Foucault, "Friendship as a Way of Life," interview by R. de Ceccaty, J. Danet, and J. Le Bitoux, Gai Pied, April 1981.

--
GHY Cheung is a writer and artist currently splitting his time between Katarokwi/Kingston and Hong Kong. His work considers the possibilities of using built environment and public spaces against or aprt from their design, queer space and spatial practices, and the imaginary confluence of personal family and queer histories as a reparative measure. In his inquiries, he centres queer kinships as method, archive, and sustenance.